5 Best Dog Bike Trailers 2023 compared, cycle with your best buddy anywhere!
 The joy of outdoor adventures comes from sharing the experience. Your best friend makes the perfect companion for a tail wagging fun bike ride. If you are the kind of cyclist that enjoys off road trails or long distance cycling, a dog trailer is a great solution with loads of practical features. Your four legged friend can hitch a ride in style, enjoying the fresh air. Bike trailers offer a safe and comfortable ride for bike trailing or bike backpacking, with your dog in tow. Do you cycle to work and would like to take your dog along? Some dog bike trailer model cabins double up as a crate creating a safe chill out den. 
One of the reasons you might like the idea of a bike trailer is to take your senior dog for an outing. It can be devastating to leave your old boy or girl behind once they get to a point where they can't manage the distance or are recovering post surgery or injury. They will love being with you, head popping out of the sun roof watching the world go by. While you rest, they can get out and have sniff around and stretch their legs. If you planning a long distance bike tour and your dog is healthy and enjoys active adventures, a dog bike trailer is great way for your dog to tag along on the commute. Some of the models double up as a dog stroller, which can come in handy. They all feature storage pockets for your dogs goodies.  
What is the best dog bike trailer for you?  
There are few things to consider when researching for the right dog trailer for you and your best buddy. The trailer needs to easily cope with the terrain you will use it in and your dogs comfort is the number one determining factor. Tail wagging every time they see you connect the trailer to your bicycle. 
Trailer Size matters
Ensuring your dog will be comfortable for long periods of time is vital. Compare the cabin size to the length of your dogs spine and height. Consider the weight capacity of the dog bike trailer as well as the combined weight of your dog and trailer you will need to tow. 
Reliable Trailer Hitch
An easy fold mechanism design and reliable trailer hitch to connect to your bike is as vital as your dogs comfort and safety. There are so many variations of bike models on the market. Croozer & Doggyride have designed universal hitch adapters suitable for most bike models whether you have an E Bike or mountain bike. Contact us and let us know what bike model you have and we can assist you further with recommending a few dog bike trailer options that could work well for you and your dog. 
Trailer Features

The dog bike trailers feature low to the ground rear entrances, leash attachments included to secure to harnesses inside the cabin. This helps prevent them trying to jump out. Or you have the option to keep the well ventilated cabin fully enclosed depending on your dogs temperament. Cabin covers are weather resistant for rain and sunshine, however it may be worth purchasing an additional rain cover as an accessory in case. A comfortable mattress goes a long way and most dog trailers have mattress designed by the brand available as an accessory.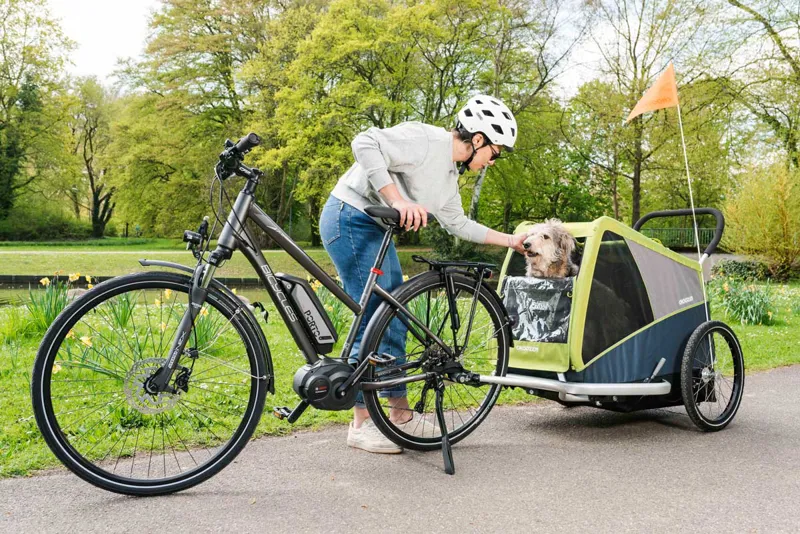 Are dog bike trailers safe?
Dog bike trailers have become increasingly popular for the convenience and safety they provide so you can take your dog on an adventure. One of the primary benefit is their stability and balance. Dog trailers are designed with a low center of gravity, which ensures that they remain stable while connected to your bike. This stability reduces the risk of tipping over, even when navigating corners or uneven terrain. Your dog can happily sit or lie down without feeling any shifts in motion. 
Harnesses: Most trailers feature built-in safety leash system for your dogs harness or leash tether attachments that secure your dog in place, preventing them from jumping out or shifting during the ride.
 Reflective strips: All trailers should have reflective strips or materials that enhance visibility, making you and your dog more noticeable to motorists and pedestrians, especially in low-light conditions.
Ventilation: Proper ventilation ensures your dog stays comfortable and cool, preventing overheating during the ride.
Shock absorption: Good quality trailers include shock-absorbing systems to cushion the impact of bumps and uneven terrain, ensuring a smoother, less jarring ride for your dog.

Protection from the Elements: Dog bike trailers provide essential protection from the elements. Whether it's scorching sun, heavy rain, or strong winds, your dog remains sheltered inside the trailer. 
Navigating Traffic: When you're cycling in areas with traffic, safety is a top concern. Dog bike trailers help maintain a safe distance between your dog and passing vehicles. Unlike traditional leashes or bike baskets, trailers keep your dog away from the bike's wheels and pedals, eliminating the risk of accidents caused by sudden movements.  
How to introduce your dog to a bike trailer?
Introducing and training your dog to use a bike trailer is a process that requires patience, positive reinforcement, and a gradual approach to ensure your dog feels safe and confident. If your pooch has been trained to use a crate you should have no trouble at all  All dogs are unique, the time it takes to train your dog to be happy trailing along will vary. Here are a few tips to get you started
Introduction to the Trailer
Allow your dog to explore the dog trailer while it is stationary. Let them sniff and inspect it. They will start to become familiar with its presence.
Getting In and Out
Teach your dog to enter and exit the trailer on command. Bribe them with treats and verbal praise and encourage them to step inside. If they are nervous, place their favourite blanket or toy inside the cabin. If the dog trailer does not come with a mattress, make sure there is one on the base before they get in.
Puppy Steps with Short Rides
Once your dog is comfortable with the trailer and used to being inside the trailer, take them on short rides around the block. Keep the initial rides brief. This lets your dog know what to expect. Extend the bike ride duration gradually and add in a few stops. Your dog should start to enjoy the trailer more when he/she knows it ends up at the beach or the park for some play and exercise.
Consistency
Consistency is key. Make riding in the trailer a fun, regular part of your routine to help your dog feel at ease and enjoy the experience.
Positive Reinforcement
Throughout the training process, continue to use positive reinforcement, praise, and treats. Your furry friend will soon be having a ball on a grand exciting adventure.  
Top 5 Dog Bike Trailers 2023 
1) Doggyride Novel 15  
Doggyride have been pioneering outdoor bike adventures with your dog since 2003. Their trailers easily convert into strollers. Conversions kits can be bought as an accessory.  The Novel 15 DoggyRide is designed for your dogs ultimate comfort and safety. Featuring the bike trailer kit compatible with your E bike or mountain bike. The trailer bike kit attaches to your rear rack and ensures a tip proof, well balanced and easy tow. If your E bike does not have a rear rack you can purchase the rear britch frame coupling which attaches directly to your frame. The trailer bike kit is included. Also included is the Doggyride pet mat and roof rack. This dog trailer is a great option for longer trips and bike packing with your dog and all your gear. The roof rack can take a fair load.
The Doggyride Novel 15 is ideal for large dogs, the cabin offers ample space and height to enjoy the breeze and view through the sun roof. It has a weight capacity of 50kg.  Accessories such as a rain cover and kickstand can be purchased separately. 
Pros
Tip proof tow & Ebike, Mountain bike compatible

Includes accessories trailer mat & cargo rack

Can be used as a crate

Plenty of storage space

Sun roof
Cons
Assembly is not straight forward, manual not comprehensive.

Cargo roof is heavy

Cumbersome to fold & store when not in use
 

2) Croozer Enna
The Croozer Enna dog bike trailer is a top quality high end of the range trailer. Manufactured and engineered in Germany. Croozer are an eco friendly crew dedicated to sourcing sustainable materials. The Enna like all the Croozer trailers are E bike compatible. There are a selection of hitches & adapters available depending on your bike wheel size and rear axle. The Croozer comes with a Click n Crooz system that allows you to easily connect the hitch to your bike.

Thru axle, Quick release or Solid axle will determine the correct Hitch adapter required. If you have thru axle, the dimensions required are thread pitch, axle length, hub width. If you have a solid axle, we would need the thread pitch and If you have a quick release skewer, we would require the clamp width and hub width. More info here on how to find out how your rear wheel is attached to your frame.

The Enna cabin is spacious, featuring excellent ventilation through mesh windows in the front, side and rear of the cabin . A super comfy dog bed is available as an accessory along with their rain covers, storage cover or a roof compartment for storage. 

The Croozer Enna has air pad suspension and brakes on both rear wheels. includes a 3 year warranty, 10 years on your frame. Croozer have 2 larger models, The Croozer Mikke & The Croozer Tammo for large dog breeds or 2 best buddies. All models were released in 2023. 

 The Croozer dog bike trailer range is ideally well balanced and aligned to 26" - 29" rear bike wheels.
Pros
Compatible with most Ebikes or Mountain bikes

Airpad suspension

Croozer hitch mechanism superior

3 Year warranty on dog trailer, 10 Year warranty on the frame
Cons
Tight fitting cabin fabric makes it challenging to assemble

Expensive

Limited pockets & storage room

All accessories purchased separate
3) Innopet Hercules  
Innopet are a dedicated and top European innovative brand in pet travel. They have expanded their pet stroller range to include light weight trailer conversion options for all terrain and off road adventures.

The Hercules dog bike trailer from Innopet is another great choice for large dogs. The light aluminium frame, spacious interior & hitch (sold separately) provide a smooth ride for you to pull along on urban roads. The 20" Air tyres will manage well on all terrain. Axle coupling mounts to your rear hub. This is quite a compact no fuss and easy to store bike trailer. You can zip up the front window to ensure your dog is secure, internal safety clips and leash provided and open up the sun roof for a tongue slapping fun ride. 

The Hercules doubles up as a stroller with adjustable handle and 360° front swivel wheel. The front wheel locks, ideal for joggers. There is a pocket in the rear cabin to store goodies. 
Pros
Spacious cabin, lightweight trailer

Easily converts into a stroller, stroller kit included

Simple assembly and fold away for storage

Sun roof
Cons
Only compatible with standard road bikes & rear hubs

Limited pockets & storage room

Front mesh window design not ideal for a trailer safety
4) Innopet Sporty Deluxe  
The Sporty Dog Trailer is light weight and one of the narrower popular models. It handles well on off road trails. It is easy to assemble and fold up for storage or transport. If you have a small/medium size dog and love riding off road the Sporty Deluxe is nimble & robust, perfect for tight corners.

The bike connector rods securely attaches from underneath the trailer and connects to your rear hub. The stroller handle folds down securely when being used as a bike trailer and of course includes the safety flag as all the dog trailers do. The Sporty deluxe converts into a stroller, which is equally suitable for off trail walking and hiking.
Pros
Easily converts into a stroller, stroller kit included

Great option for trail biking

Sun roof

Affordable price
Cons
Only compatible with standard road bikes & rear hubs

Limited pockets & storage room
Take your best buddy for a ride in the Innopet Sporty Dog Trailer.
5) Mini Doggyride   
 The Mini Doggy Ride by Dutch Dog is an ideal solution for dogs just too big for a bike basket. Doggyride have created the Cocoon basket for small dogs under 11kg. It connect to your bikes frame or rear rack. It offers a supremely smooth ride in style. Well designed and robust. It can be used as a crate, and is a compact model that easily folds to fit into the boot of your car.

Great ventilation on this smaller trailer with a sun roof. There is a memory foam mini mattress available as an accessory. 

The Doggyride trailers including the Mini have the option of purchasing the Bike trailer kits suitable for E bikes or if you have a push bicycle with a rear rack giving you peace of mind and a stable tip proof tow. The versatility this adapter provides if worth the money.
Pros
Compact & lightweight

Can be used as a crate

Affordable price

Ebike & mountain bike compatible but Britch kit is an extra expense
Cons
Limited pockets & storage room

Limit of 15 kph

Assemble of parts not straightforward
What kind of dog breed and bike do you have? Let us know in the comments below.
Bike Compatibility
Dog trailers are generally pretty compatible with most bicycles. Whether you have a mountain bike, road bike, commuter bike or even a fat bike. The important factor to be aware of is how the trailer will connect to your rear axle.

This is where brands like Doggyride have excelled making their trailers accessible for all bicycle models with their universal Britch adapters. The only likely model that would be a challenge are folding bikes. Croozer have a solution for most bike makes & variations on axles. Things like dropout design, thread pitch and the overall length of the axle differ between makes. This can end up being baffling as axle standards seem to be subject to constant change, with new ones emerging, gaining traction and tech trends evolving. It is helpful to contact the brand or retailer you purchased from to make sure you have the correct specs for your rear axle.
12 comments