Best Dog Strollers & Prams for your Breed in the UK 2023
Whether your pooch is getting on, disabled or you have a crazy bunch of little hounds, they can safely enjoy an outing or a road trip using a dog stroller.
They give dogs a new lease on life, opening a whole world of possibilities.
Traveling cross country or flying with your dog becomes far simpler especially when your pooch loves their stroller and they get to stay close to you. 
 Finding a suitable pet stroller to explore together can be tricky. We have listed our top picks below based on your dog breed and size as well as price, durability and stability.
Introducing your dog to their pram & safety

First Timers
If this is the first time you have considered buying a stroller for your dog, you will appreciate how practical and convenient this product is. Your dog may hop right in and wonder why he's not moving, or it may take a bit of convincing. If your dog is nervous or scared of the dog stroller, leave it in your lounge area for a few days for investigation. Be patient, let your dog find out on his or her own terms that it is not evil. Do not force your dog by plopping them in the carriage. Place their favorite toy or blanket in the stroller. Give them treats when they venture close to reinforce a positive association. It may take time to adjust, once they have hopped in and out a few times, you can start with short strolls in the garden, neighborhood and beyond. 



Ground Rules & Safety
What is important is that from the start, your dog is clear that you are the driver. You can offer treats when they jump in and out of the stroller. They should wear a
harness
.
 All strollers have a leash attachment in the carriage which you can connect to their harness to prevent them jumping out.
When you are in dense public areas, you can zip up the mesh windows. If you dog associates the carriage as a safe den, all will be well. All dogs have different personalities and 
temperaments. There are training tips on how to introduce your dog and train them to use a stroller here. Most dogs end up loving their pushchair. 
Dog Pushchair Maintenance Tips
As you will be making an investment to purchase a top quality luxury dog stroller, it is worth taking good care of it and maintaining the its durability for years to come. Most pet strollers come with a one or two year warranty.
Firstly, regular cleaning goes a long way to keeping the stroller in good condition. Remove dirt, pet hair, and debris from both the interior and exterior of the stroller. A simple brush or vacuum can help keep it tidy.
Inspect the wheels and tyres frequently. Remove them and give them a rinse,  make sure they rotate smoothly. Lubricate the axles and pivot points to prevent rust and squeaking. Especially for dog prams regularly on the beach.
Keep an eye on the frame and handle. Tighten any loose screws or bolts to maintain sturdiness. Also, inspect the zippers, latches, and fasteners, ensuring they work properly.
Maintain proper tyre pressure. Inflate them to the manufacturer's recommended PSI, you will usually find the tyre pressure printed on the inside of the tyre.
Store the stroller in a dry and clean place to prevent rust and mold growth. All stroller models collapse and easily fold down for compact storage.
 PROS of using a Dog Pram 
Senior Support: Dog strollers provide a comfortable way for elderly dogs to enjoy outings even when they can't walk long distances.
Stress-Free Vet Visits: They make vet trips less stressful for both you and your dog, especially for those doggies with anxiety.
Outdoor Adventures: Strollers are perfect for outdoor events, like fairs, festivals, and picnics, where your pup might get tired during a whole day event.
Doggy Fitness: Strollers are handy for dogs recovering from surgery or illness to gradually reintroduce physical activity.
Pet-Friendly Cities: In pet-friendly cities like London & Paris, you'll often see locals using strollers for their dogs to visit cafes and shops.
Pet Parent Fitness: Jogging strollers designed for dogs allow you to maintain your active lifestyle while your dog enjoys the ride.
Traveling Pet Buggy: Dog strollers can be easily folded and transported, making them great for road trips and vacations.
Eco-Friendly Options: Some strollers are made from eco-friendly materials, appealing to environmentally conscious pet owners.
 CONS of using a Dog Pram 
Size and Space: Dog strollers can be bulky and may not fit through tight spaces, making them inconvenient for crowded or narrow entrances.
Cost: Quality dog strollers can be relatively expensive, especially those with added features or designed for larger dogs.
Learning Curve: Some dogs may take time to adapt to a stroller, and the training process can be time-consuming.
Terrain Limitations: Strollers may not perform well on rugged terrains, limiting where you can take your dog. If you enjoy hiking or outdoor adventures, look for off road dog pram models
Maintenance: Strollers require regular cleaning, and the wheels may need replacement over time due to wear and tear.
Storage Challenges: Storing a dog stroller can be difficult, especially for those with limited space at home or who have a small car boot.
Lets dive into a comparison of the best dog strollers based on your dogs breed, the carriage size and the terrain you will most likely find yourself strolling through
Dog Stroller Comparison For Carrier Size, Breed & Terrain 
Top Pick Dog Strollers for Toy Breeds
The Avenue is a lightweight no fuss pet stroller. An ideal option for a quick zoot to the shops or day out in the city with your little furry companion. Simple to take on busses and trains. The slide out storage basket comes in handy. This affordable model features a front wheel with suspension that swivels or locks, plus it includes a free rain cover.
The Innopet All Terrain weighs a mere 6.5kg. The lightweight design offers pet owners the convenience of easy and comfortable walking or jogging outdoors with their little one. It is well priced compared to other dog strollers. The reflection stripes on the fabric ensure good visibility and there is a storage basket beneath the buggy carrier for all your essentials. The three wheel design will ensures maximum maneuverability when you need it. Mounting kerbs and taking corners is a breeze thanks to the front pivot swivel wheel.  

Top Pick Dog Strollers for Small Dogs 
The Allure is another lightweight affordable stroller option with a spacious cabin. This robust model features front wheel suspension. Enjoy a stroll in the park or urban adventures while ensuring your pooch has a comfortable ride. The Innopet Allure comes in 2 stylish designs the Onyx and the Cheetah ideal for smaller dogs. It is simple to assemble, folds flat for easy storage and includes a machine -washable poly filled pad mattress.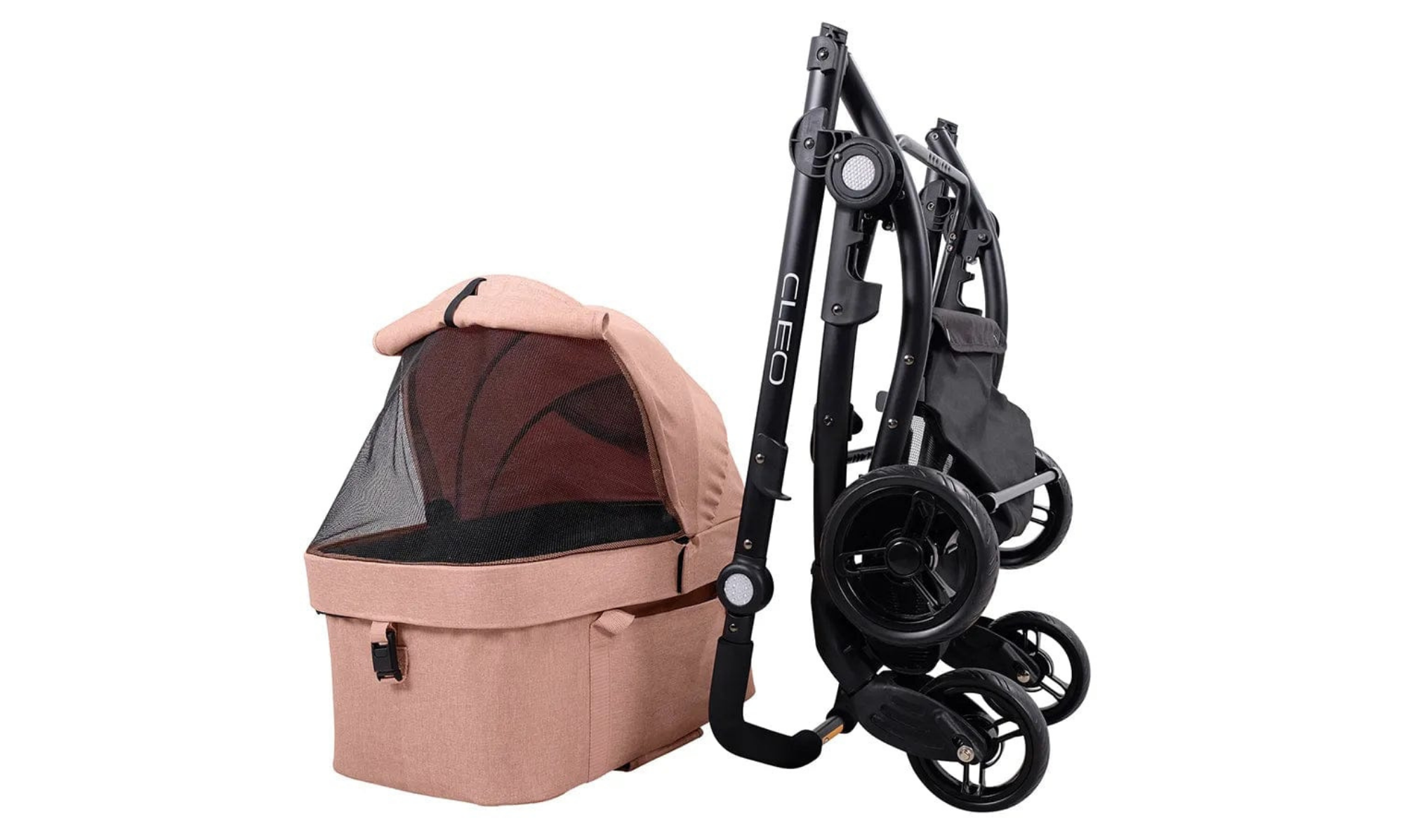 The Ibiyaya Cleo travel system is a 3-in-1 dog buggy for small dogs featuring a detachable carrier that also works as a pet car seat booster for travel convenience by car or plane. It features a multi level adjustable handle to suit your height and we love the fact that the cabin canopy opens up from the front or back. There is plenty of storage in the side pockets and basket below.
 Top Pick Dog Strollers for Medium Dogs
The Cozy Premium  is a 2023 edition, European manufactured luxury dog pushchair. Including Eco friendly features, rear suspension and an adjustable handle with the cosiest mattress in the cabin. Limitless options and adventures with peace of mind for the superior comfort your dog will enjoy. This pushchair is an ideal choice for dogs suffering from osteoarthritis or with limited mobility. It is priced more on the high end but worth the investment and includes an extended 5 year warranty, including a free rain cover.
The ibiyaya Beast is indeed the beast of dog buggies. This model is the perfect solution for the active owner. Designed as a jogger stroller and to navigate rough uneven terrain regardless of speed or surface. We love that your dog can jump in from the front or rear entrances. It is robust, constructed with an aluminium frame and double brakes.
Top Pick Dog Strollers for Medium/Large Dogs
The Sporty Evolution is an improved version of the much loved Sporty Deluxe.  The adjustable handle and Sporty look is appealing if you looking for an alternative to a model which resembles a baby pram. The Sporty Evolution has a spacious comfortable cabin and large rear wheels ensures a smooth ride on any terrain. It includes a tow bar and doubles up as a bike trailer. Compatible to attach to standard road bike rear hubs. Featuring a low to the ground rear entrance and a sun roof. Accessories include a rain cover.
The ibiyaya Retro Sage new edition is one of the larger versatile dog strollers. Your dog can stretch out comfortably in the super spacious cabin. The cabin is fully customisable and opens up completely to suit your dog temperament or the environment you find yourself in. Includes a cup holder and plenty of storage for your goodies. A popular choice for pet owners with multiple dogs. The 4 wheel 360° swivel movement makes it easy to push and can be easily maneuvered in all directions.
Top Pick Dog Strollers for Large Dogs
The Hercules is as it's name suggests is a top of the range off road dog buggy for large dogs or can be handy as a double stroller for 2 smaller best buddies. Good ventilation with all round mesh windows and a sun roof that ends up being the highlight of most large dogs outing in their chariot. The large 20" pneumatic rear wheels and suspension ensure easy maneuverability and a smooth ride for your fur baby. It is quite compact and straight forward to fold or pack away. It is one of the wider models and you will struggle to get it through a standard front door, however the rear wheels pop off with the push of a button allowing you to get through most entrances. The Hercules is a best seller, including a free rain cover and has an adjustable handle with 3 height settings.
The Mamut
pet stroller is an affordable option for large dogs up to 50kg. Injured dogs or elderly dogs can easily access the Mamut from the low to the ground rear entrance. Depending in whether you have a nervous dog or an outgoing friendly dog you can customise the cabin to remain partially closed or completely open. It is capable on grass, in parks and ideal for urban exploring. It features a storage pocket and includes a rain cover.
If you are not sure of your dog's breed weight and measurements view our general
dog sizing guide.
Happy Strolls
With so many pet strollers on the market, choose a model that is sturdy and durable, designed to handle the terrain and activity you and your dog enjoy. Dog strollers can be relatively light and simple to handle. They provide storage space for all your shopping, essentials and dog goodies and are ultimately a mobile safe den for your dog. Wishing you many happy strolls and adventures. If you have any questions please contact us or leave a comment below. 

Please check out our full collection of luxury dog prams here.